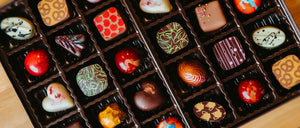 Truly Something For Everyone
We understand that showing gratitude is important to you. 
Let us help make it special.
Business Gifts
Whether you are looking to show your appreciation to your employees and current customers or show prospective clients just how "sweet" you are, we know you work hard and in a world full of Zoom calls, FaceTime and emails, making sure to give a tangible gift of connection is instrumental in making a lasting impression.  
Weddings and Special Events
With a million decisions to make, figuring out the best party favor or desserts for your event can be overwhelming.  Let us craft the perfect token of your affection to give your guests a sweet memory to take home. 
Custom Creations
You know that feeling when you have an idea in your head….and you're just not quite sure how to make it happen?  That's what we're here for.  Let the team at The Chocolate Season talk out what Pinterest-worthy, Insta-famous, frustratingly fabulous idea you have.
Customization Options
Colors
There is no limit! Have specific colors in mind? We just need a minimum order of 32 pieces per color set.
Gift Messages
Make it personal by adding a gift message. Lead times, set up fees and minimum orders apply. All must have same design and message.
Transfers
Create personalized confections featuring custom logos and imagery lead time 3-4 weeks.
Labels & Belly Bands
Create a personal touch by featuring your logo or design on your gifts. Lead times, set up fee and minimum orders apply.
Ship Direct
Fill out our multi-address shipping worksheet and we will take care of the rest
Mailing List Form
Ready to Start?
Reach out and we'll provide you more details about any of these custom options
Get in Touch
What Customers Are Saying
★★★★★

TCS made custom truffles for our debut trade show and the entire experience was amazing. Everyone at the trade show absolutely loved the truffles. Definitely will be
ordering again for our future events!

Samuel Dinzey

PortaGYN
★★★★★

The Chocolate Season has always been great to work with.  They are responsive and creative with custom gift ideas. Our employees loved the chocolate snack bars.
Nothing but positive feedback about their chocolates.

Lauren

Goldman Sachs
★★★★★

Thank you so much for making the toaster tarts as our wedding favors! They were a huge hit! The wedding coordinator thought the toaster tarts were the cutest, unique idea she's seen! They we're
perfect and delicious!

Lisa & Ed

Lincoln, Nebraska
★★★★★

The Chocolate Season creates custom thank you gift baskets for our customers that look fantastic on a regular basis. Our customers rave about them. 

John Harrison

Harrison Roofing LLC
★★★★★

We love everything about TCS! We've given out assorted chocolates to our practice members during the holidays. Their attention to detail helped us stand out, and their ability to make our idea come to life has been amazing to watch!

Dr. Spencer Brown

Adjusted Life Chiropractic
★★★★★

My team uses TCS for all of our client gifts to send across the country, this is an extra special way to send some local love across the US with so many amazing treats. TCS has you covered!

Justin Fuchs

Thrive Corporate Events
★★★★★

The Chocolate Season created custom labeled mini chocolate bombs for us to show appreciation to our employees that are scattered far and wide on Valentine's Day!

Swanson Russell

Lincoln, Nebraska
Spotlight on: Lincoln Orthopedic Physical Therapy
My first choice for customer deliveries! For my job, I have to order large orders several times a year and they are always on time and perfect. You will be glad you used them when you see your customers eyes light up after they receive their delivery!---Tiffany, Marketing Director
Three Easy Ways to Order
Fill Out the Form
Start with the Let's Get Started form below and then we can connect to make sure everything is just as you envision it to be!
Get In Touch
Shop Existing Gifts
Shop our on-line store simply add items to your cart, add a note and checkout

Shop Gifts
Reach Out to Us
Special questions call (402) 466-1139 or email contact contact@thechocolateseason.com
Contact Us
Let's Get Started!
Contact our chocolate concierge today using our contact form below, and let us know your needs.
Goldman Sachs, PortaGyn, Nebraska in A Box, Silverhawk Aviation, Union Bank, Cornhusker Bank, Edward Jones, Adjusted Life Chiropractic, Lincoln Orthopedic Physical Therapy …..many more. We are your partner in providing a wide-range of gifts that can be customized to suit your budget, time frame, and branding potential based on the individual needs of your company. 
Giving a lot of gifts? Let's talk about volume discounts! Fill out our form and we'll be in touch.
We love custom orders and want them to be of the best quality. The lead time required for custom options varies greatly and is dependent upon the quantity, time of year, and the type of custom work.  Please fill out the custom inquiry form on this page and let us know what are thinking.
We welcome working with you to make this gift exactly what you envision it to be. NEED TO SEE-SMELL-TASTE? Ask about our sample program to see if you qualify.
We drop ship nationwide.  If you are currently working with us on custom gifts, you may download our mailing list spreadsheet template here and send us your list.
Our design team will create a custom card or band or tag.  Once the custom plates have been set up, you can reorder the same design as many times as you need, whenever you need!  Just a one time set up charge.
Yes, we ship year-round and nationwide. We pack the chocolates securely with ice and ship on an expedited service to ensure their safe arrival.  We do not ship internationally at this time and we also do not ship to P.O. Boxes
 You are more than welcome to bring in your own cards and we'll place them in your boxes at no additional cost. We will not ship any outside gifts that are not from TCS.