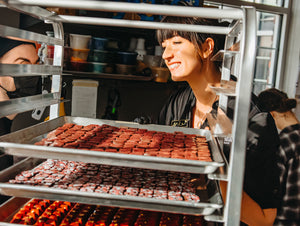 With every season in our lives, there is a reason people eat, share or celebrate with chocolate.
What's your reason?
Mine is to share the love, joy, and curiosity I felt growing up in my Grandma's kitchen. She was a gift-giver, a big-hearted woman whose love language was banana bread, squishy hugs, and freezer box cookies. She taught me that baking for someone is an act of love and selflessness. That love, shaped by memories and cast into chocolate, has the power to comfort our spirits and remind us that we're connected.
Wow. What a gift to give.
I started The Chocolate Season with my husband Bradley because I wanted to give that gift—and provide an outlet for others to do the same—every day.
Chocolate is inherently intriguing and exciting. It makes even our most ordinary moments special because every bite is an adventure for the senses.
The Chocolaterie & Espresso Bar
We're proud to have created a space that illuminates the unique joy and journey each chocolate offers our guests. Our shop is where Midwest warmth and hospitality meets vogue and artisanal creations. We pride ourselves on bringing authentic flavors to you by way of our "no artificiality" value. Our highly-trained staff crafts a distinctive melding of flavors with natural herbs, fruits and liquors, but what's actually the most fun part of our job? It's listening to the subtle nuances that chocolate from all over the world can whisper to you.
Visit us:
3855 Village Lane, Suite 100  Lincoln, Nebraska 68516

Call us:
(402) 466-1139
Get Directions
We make all our chocolates by hand with the same intentionality and care that you put into gifting them. The team knows that sharing sweet sentiments with a neighbor next door, or a client nationwide, is a personal act that requires a personal touch. 
Experiencing TCS is as convenient as visiting our chocolaterie and espresso bar for a family-inspired outing with brownies, weekend waffles or hot chocolate. You can also send a box of love across the country by choosing your favorites online, or calling the store so we can personally guide you to the perfect gift. No matter what road you choose, we're so grateful you've allowed us the opportunity to walk alongside you.
Kindly,
erika
Your Personal Chocolatier
Handcrafted in Small Batches
Gourmet Valrhona French Chocolate
Our Motto:
No Artificiality
Woman-Owned & Family-Run
Shop Online & Ship to 48 States